Expert Garage Doors - Garage Door Repair Dallas, TX -

469-701-1394
Have you noticed that your garage door has been acting up for the last few days? Are you neglecting a repair work that should have been done several weeks ago? When you leave your squeaky garage doors be, they can rust, decay or stop working altogether. Moreover, there is also a possibility that your entire door may crash down due to a broken spring or a broken internal cable. Can you imagine the kind of risk that is?
This is the reason we warn all our clients to pay attention to creaky garage doors, they may be in need of desperate repair! If you have one of these at your home or office, call Expert Garage Doors right now and let our trained professionals have a look. We can tackle garage doors of all shapes and sizes. We can also work on your expensive garage doors with absolute professionalism.
Garage door inspection: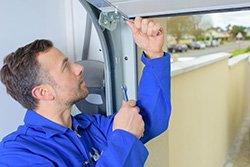 Expert Garage Doors has a team of expert technicians that understands garage doors like the back of their hands. There is no torsion spring or a complex mechanism that our experts cannot handle. While someone with lack of experience can easily miss a small component which is the source of the problem, we at Expert Garage Doors have hired experienced professionals who can easily spot discrepancies and fix them in a matter of time. This is the reason we urge all our clients to get their garage doors checked from time to time so that you can prevent an abrupt failure and also prolong its life.
When you call Expert Garage Doors for evaluation, our team will arrive on site and assess the doors, including each and every component. We not only analyze your force settings but also door hardware, cables, spring tension etc. It is our job to identify signs of wear and tear and any potential problems that can appear anytime soon. Based on their inspection, our technicians will make their recommendations to allow our customers to make an informed decision.
Damaged doors:
Over a period of time, even the best quality doors can start to fall apart. Sometimes, if nothing else, accidental collision of your car or a break-in attempt can damage the door and compromise its strength. However, no need to expose your property to such risks. You can ask for a Expert Garage Doors expert and we can send our technicians to repair your doors for you.
We provide no-questions-asked 24/7 garage door service to all our clients in Dallas.
Off-track garage doors:
It is no surprise for a garage door to go off track. Sometimes your cables may snap or the springs may bend that can cause your garage doors to stray from its tracks. It can also be caused due to temperature and weather changes. However, some other reason for your garage doors to go off-track include every day wear and tear, interruptions during closure etc. Call Expert Garage Doors for regular maintenance checks or when you notice that your garage doors are leaving its tracks.
Don't try to do this yourself since all these doors are extremely heavy and can lead to injury if the procedure is done the wrong way. Instead, call Expert Garage Doors and let them tackle your heavy garage doors for you. We are called the most reliable garage door company in Dallas, TX for a reason!